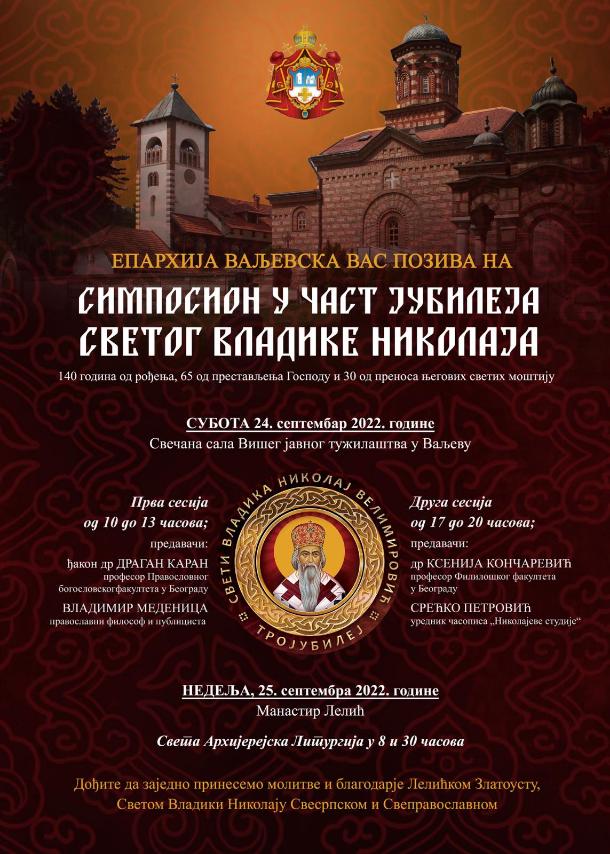 Symposium on St. Nicholai Velimirovich in Valjevo — In honor of the jubilee of Saint Bishop Nicholai — 140 years since his birth, 65 years since his death, and 30 years since the transfer of his relics from Libertyville to his native Lelić, the Diocese of Valjevo organized a Symposium dedicated to the work of Saint Bishop Nicholai on September 24, 2022. This event occurred on the 16th anniversary of the re-establishment of the Diocese of Valjevo; the Symposium was held in the hall of the Higher Public Prosecutor's Office in Valjevo.
At this Symposium, Bishop Isihije (Rogić) of Valjevo addressed the audience with an opening speech. In the first part of this meeting, deacon Dragan Karan, professor of the Orthodox Theological Faculty in Belgrade, spoke on the topic of "Pastoral Activities of Saint Bishop Nicholai." Vladimir Medenica spoke on the topic "The Christian Understanding of Love according to Bishop Nicholai."
In the break between the two sessions, the brotherhood of the Lelić monastery, led by hegumen Georgije (Mićić), prepared a luncheon for the participants and guests of the Symposium in the Lelić monastery. In the second part of the Symposium, Ksenija Končarević, professor of the Faculty of Philology in Belgrade, spoke on the doxology of God in Prayers by the Lake of Bishop Nicholai Velimirovich. The last topic that was presented concerned the Prologue of Ohrid by Bishop Nicholai. The moderator of the Symposium was Fr. Branko Čolić.
The following day, Sunday, September 25, 2022, the celebration of the jubilee of Saint Bishop Nicholai was rounded with the Holy Liturgy in the Lelić Monastery.